Davis Kramer
UX & Product Design
CenturyLink
Mobile App Redesign
About the Project
My Account is the mobile application for CenturyLink that allows customers to setup and manage all of their internet, TV & phone product needs.
Challenge:
I wanted to make the account management process as simple and convenient as possible in order to address the most important customer concern: Lack of usability and trust. Since most people bounce between the desktop and mobile app experiences, the UX of the CenturyLink suite of services needed to function and sync seamlessly.
Another challenge I faced was that I would only be redesigning the mobile app, while the in-house CenturyLink team tackled the responsive web experience. This meant ensuring the cross-platform experience was seamless and delightful across touchpoints.
My role:
Product Strategy

User research & analysis

MVP definition

Wireframes

Visual Design & Development oversight
Build. Measure. Learn.
I used Lean UX principles in the development of the 'My Account' app to focus on users and their needs at each phase of the design process:
Audit existing native app and web platforms

Review customer support logs to unveil unexpected pain points

MVP definition

Developing User-Centric features, by focusing on the analytic data and creating something that users truly need

Tailored toolkit including Sketch libraries, shareable inspiration boards, and updated iconography

Externalizing work by using sticky notes, Google forms & InVision prototypes
Research & Problem Definition
As CenturyLink is an established brand with existing data on their mobile and web experiences, we were able to pull insights to see what was and wasn't working. This gave us a leg-up in the discovery phase.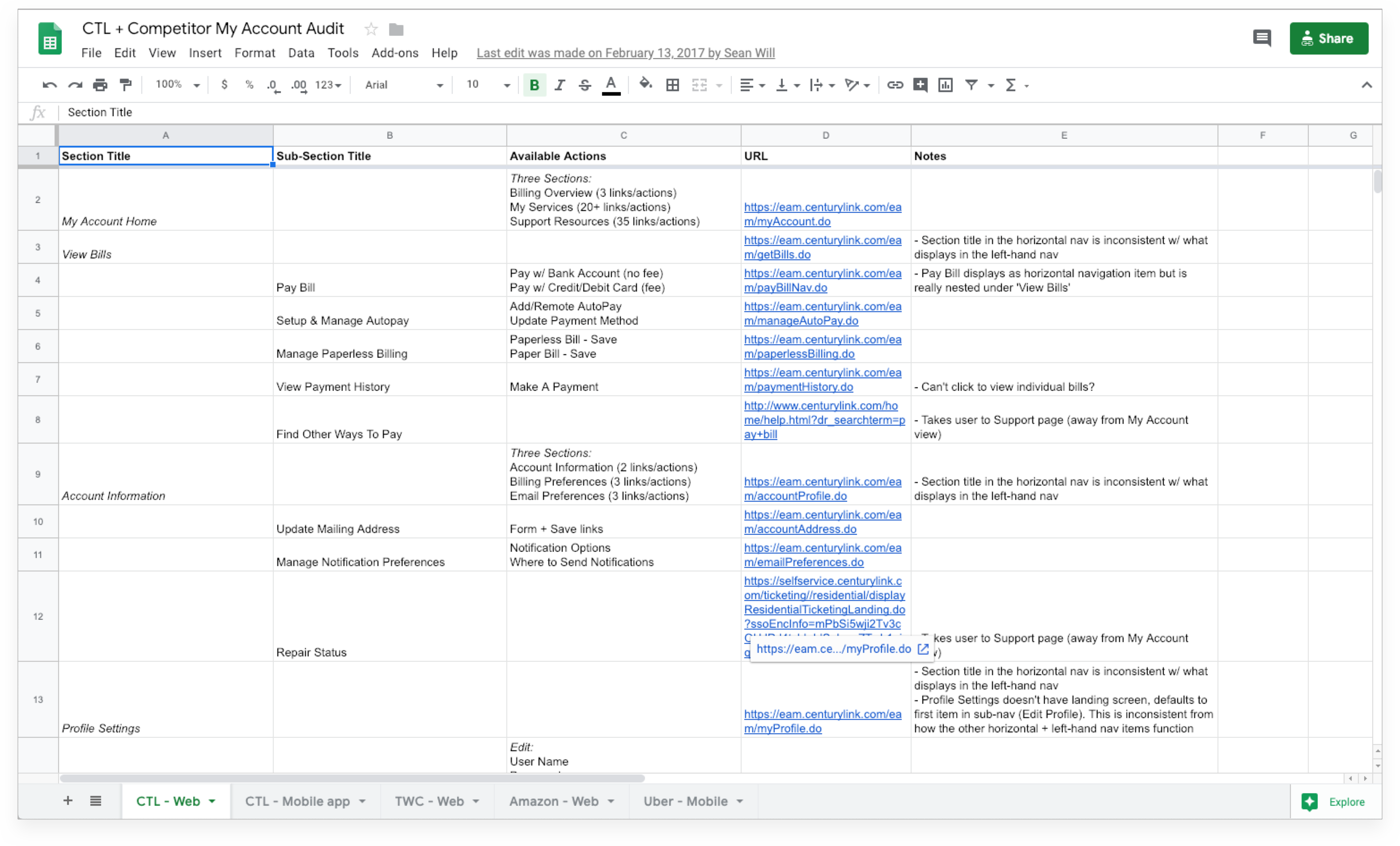 Research
Heuristic Audit
The first step in my process was to become familiar with the existing landscape of the mobile and web experiences. To do this, I created a tracking document to capture findings and identify areas for improvement/opportunity.

I took this information and evaluated it against the analytical data as well as the customer support call/chat logs.
Key Quotes:
"The sign up process is relatively simple, but it takes too long. I received my account number, but I cannot sign up with the number. I have to wait another 5-10 business days to sign up properly. This is really ridiculous."

"In terms of making changes to my order, I have no idea how to do that. I still can't log into my online account to update or change dates."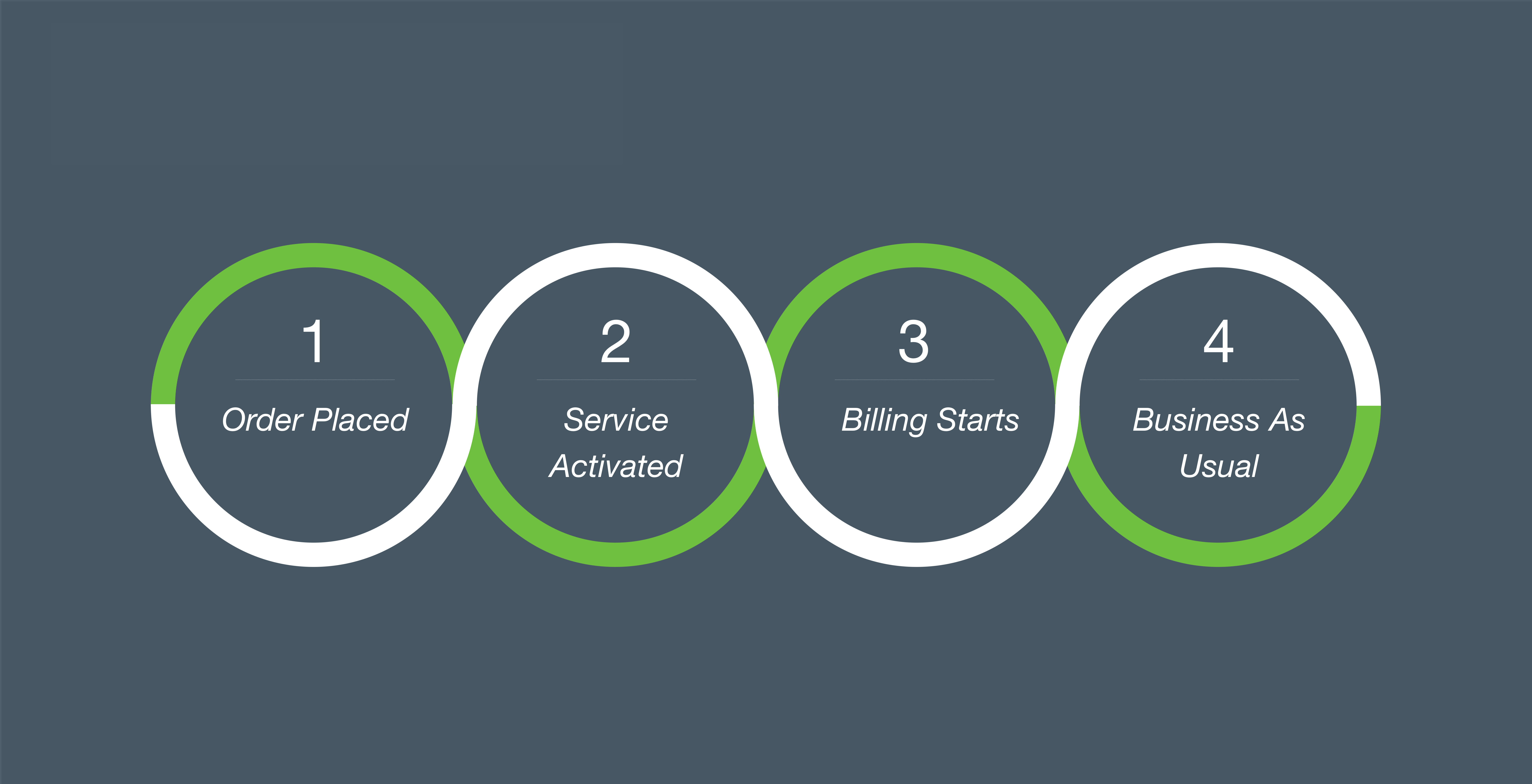 Customer Lifestages
Understanding the key lifestages of the account activation would help define the set of user actions needed and expected. One of the challenges we faced here was that an older back-end infrastructure was being used, so even updates to a simple task could require quite a bit of tech effort.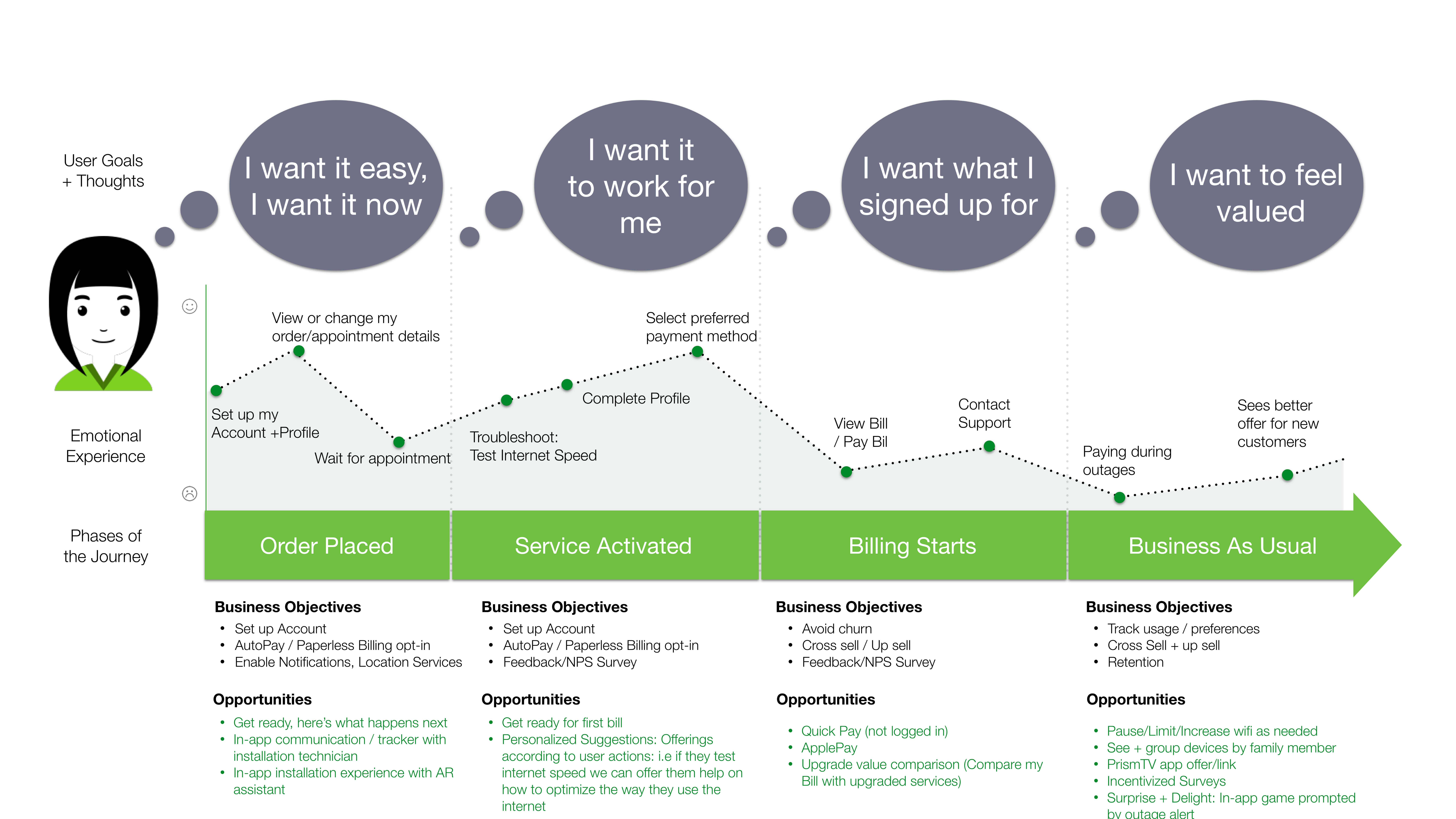 Mapping the User Journey
To truly get in the mind of the CenturyLink customer, I created a persona and tracked their account activation goals along their emotional journey. Focusing on this persona helped me understand the physical and emotional needs of the user. This process influenced the development of important design decisions and key functionality for the app. Some are as follows:
Clear next steps & expectations for peace of mind and transparency
Profile setup to help new users get prepared
In-app communication and ability to make changes
Intuitive support channels for assistance and troubleshooting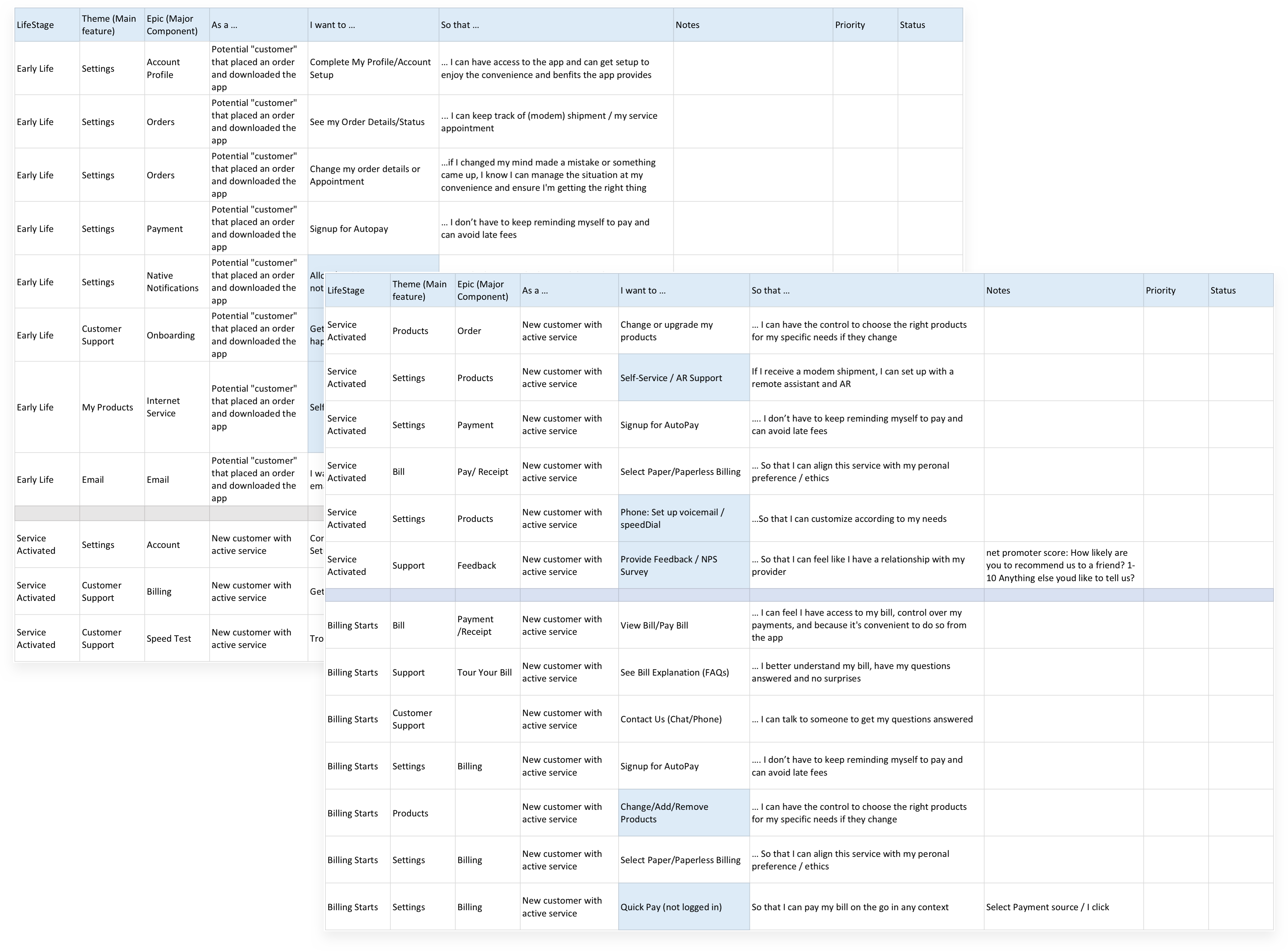 User Stories
User research & journey mapping brought up the user's main needs, goals and behaviors. From here, I was able to break down those specific needs into realistic user stories & tasks. In doing so, I found out that the main issues my design decisions have to solve are:
Uncertainty about what happens next and how long it will take

Identifying tasks that can be done immediately following order placement

Ability to review and make changes to an order or setup appointment

Instant support assistance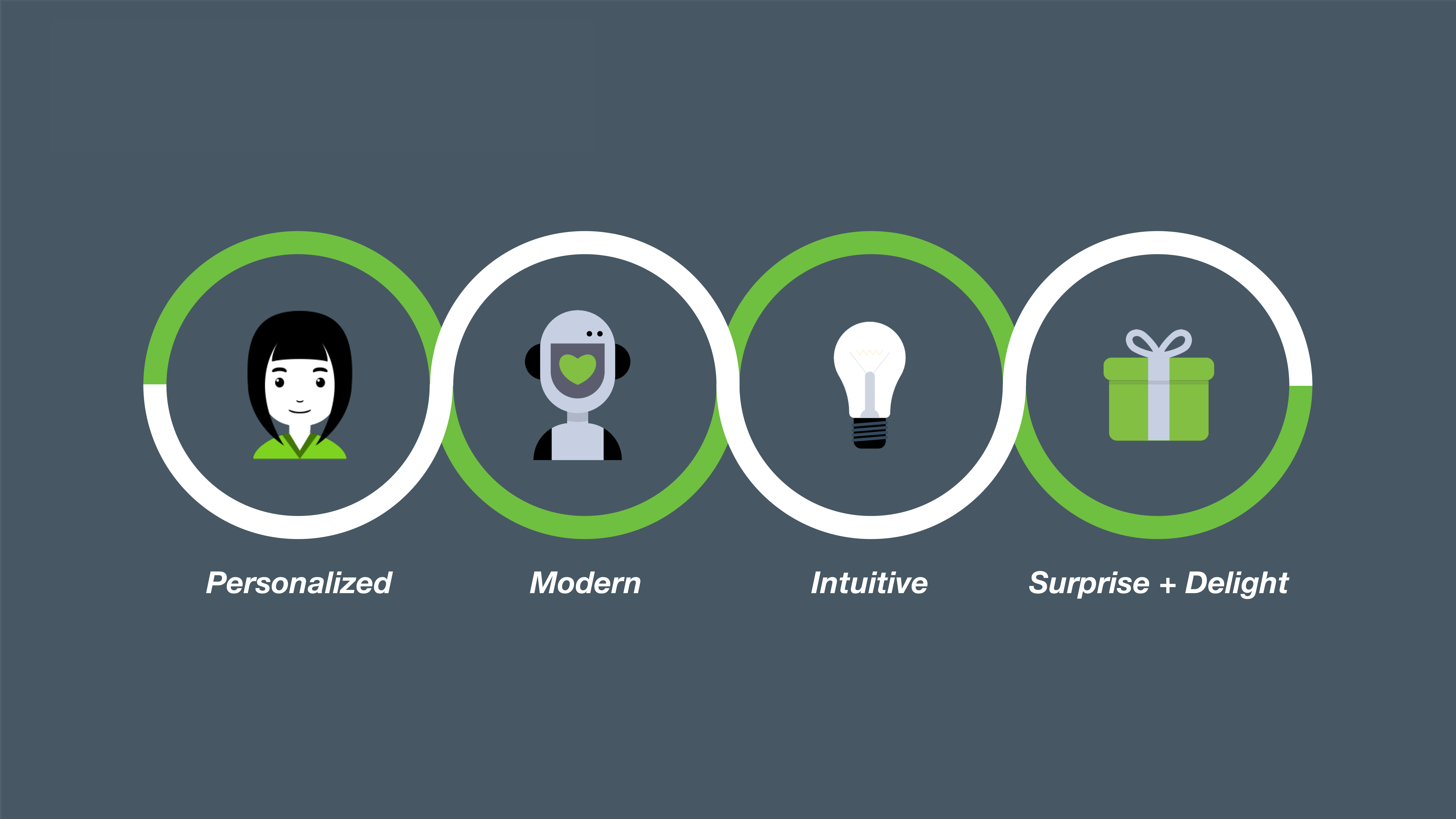 Defining Our Guiding Principles
Once we narrowed down the MVP feature list, it was time to move into the sketching/wireframing phase. But before we did that, we shared examples of best-in-class mobile products with the full team of stakeholders. This allowed us to discuss and agree on the guiding principles we'd carry into our designs.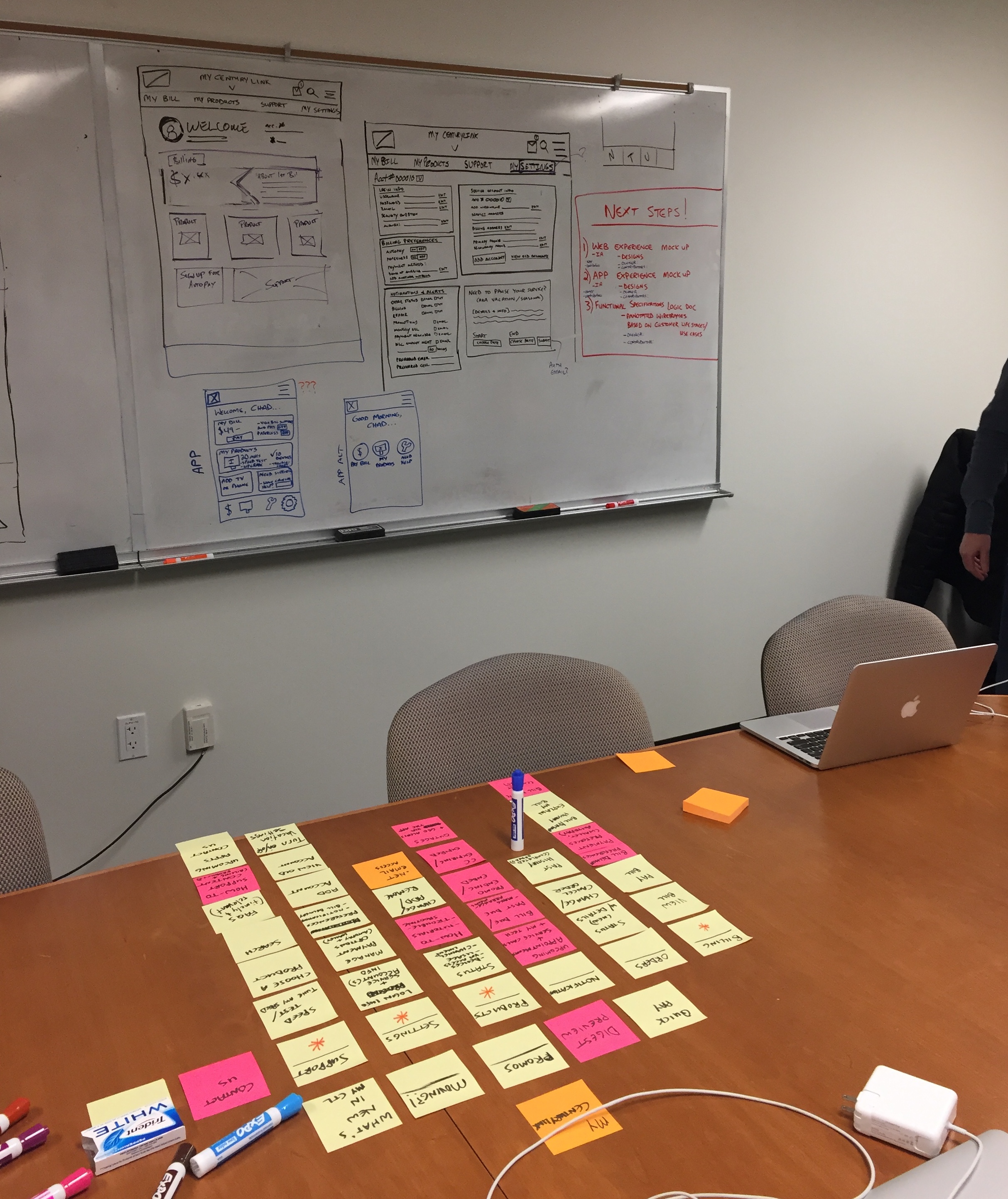 Ideating Solutions
I started the design process with a card sorting exercise followed by some low-fidelity sketches. This is a great way to establish the correct hierarchy and to iterate through many design options quickly.
During these whiteboard sessions, we were fortunate to have CenturyLink stakeholders from various departments help generate as much insight and discussion as possible.
Input from the product owner and from the tech lead early-on helped solidify what was possible for our MVP.


The CenturyLink UX team was also present during these sessions to ensure seamless, cross-platform functionality was achieved.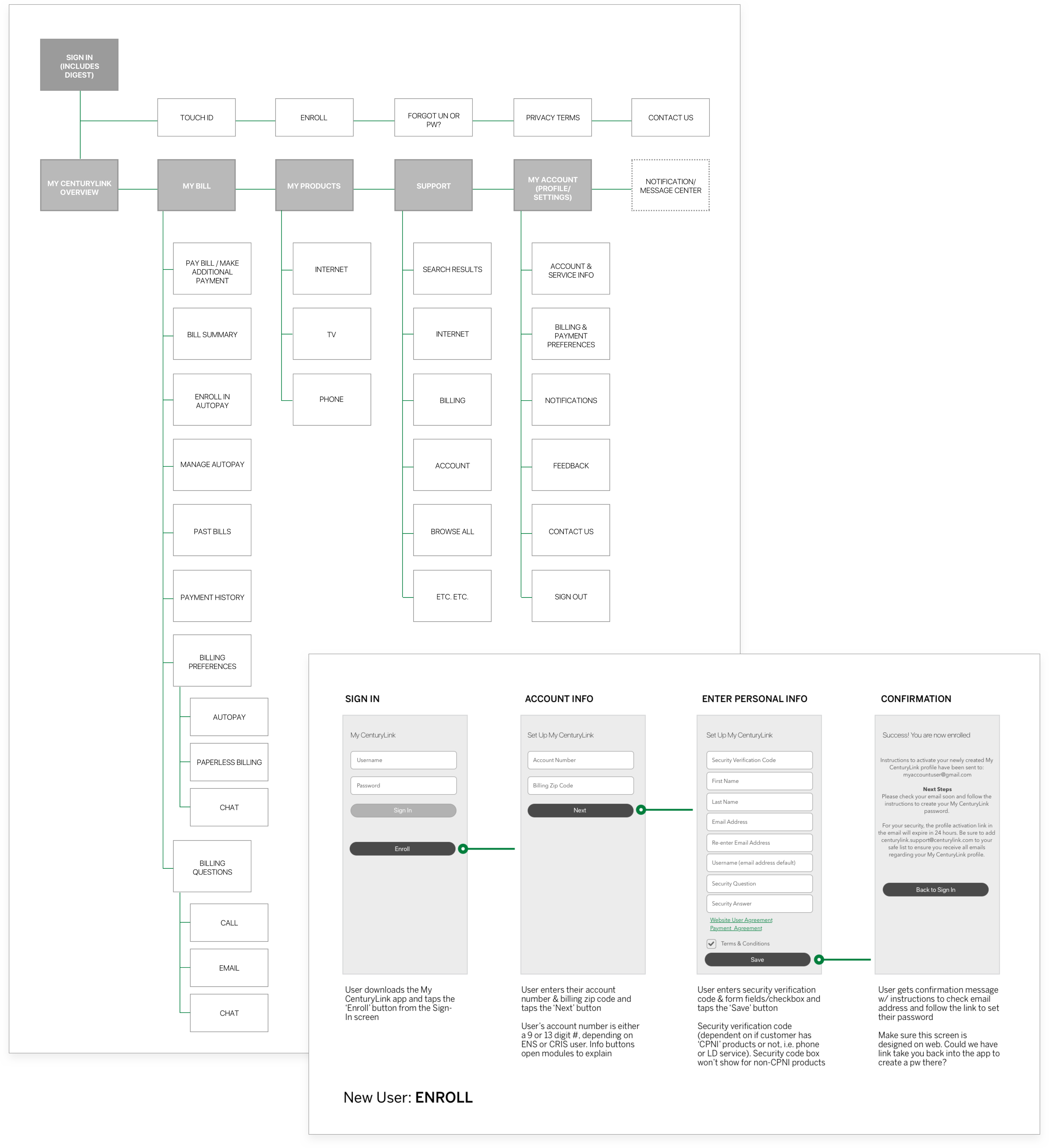 Wireframes & User Flows
Mid-fidelity Wireframes

My next task was to translate the post-its & low-fidelity sketches from our workshop into a working sitemap & wireframes. These documents would be shared and updated between mine and the web team throughout the project.
There were several nuances regarding what information certain users could see and when, so I created low-fidelity user flows to review with the product owner for approval.
To ensure the mobile app remained simple and user friendly, I opted for a sticky bottom navigation pattern over the previous hamburger nav. Naturally, there was much debate over this but the bottom nav proved to be more accessible when tested with users.

Wireframes were exported to an InVision prototype for product owner/team review and comment. When presenting the final screens to CTL stakeholders, I used Principle to demo the full app experience.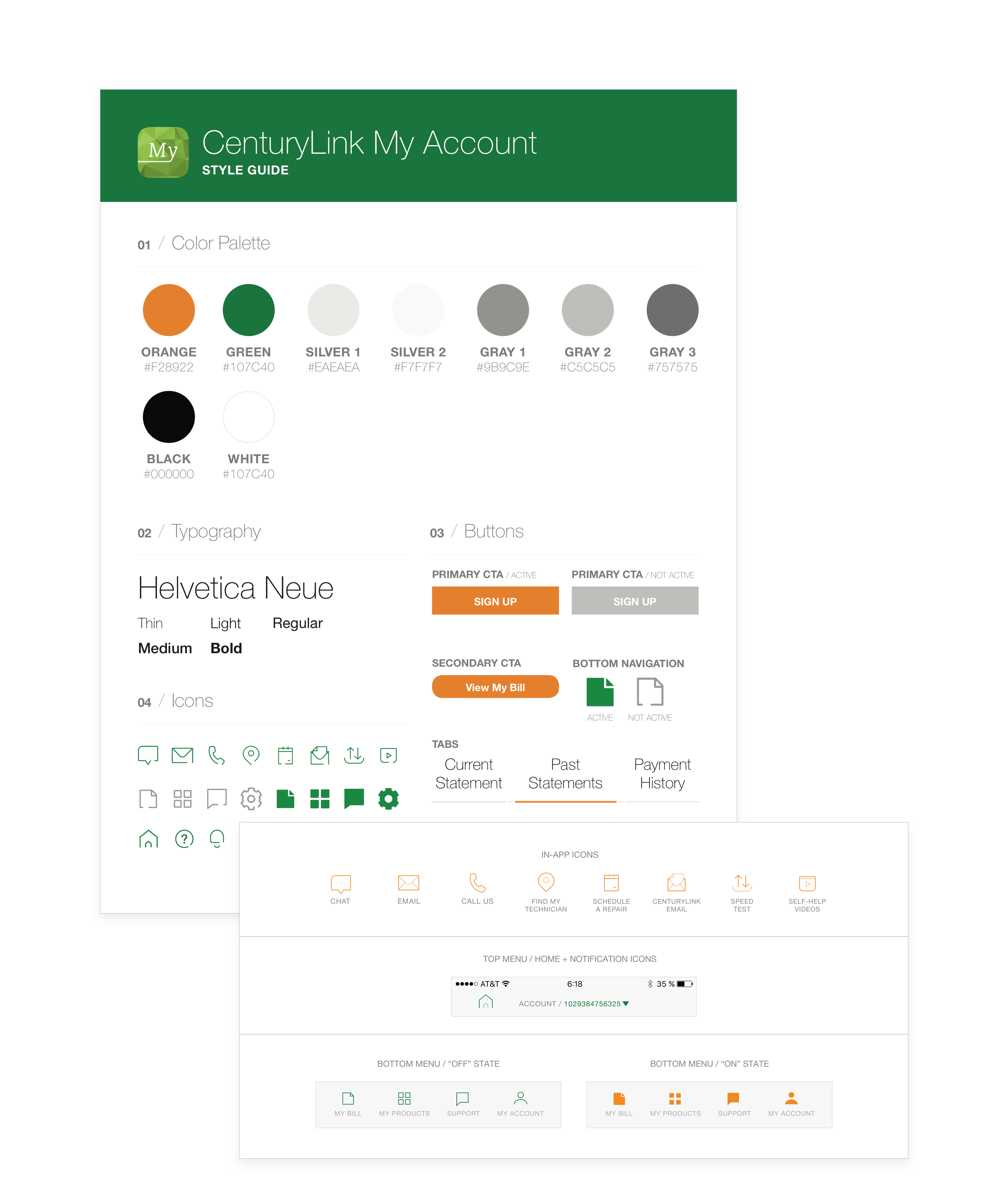 Designed for Simplification
After a few more iterations, the wires were passed over to the visual designer. To keep in-line with the modern approach we were taking, he opted to redesign the icon library and introduce an updated typography treatment.

The goal was a more modern and clean looking app that would help users find the information they needed quickly. The existing My Account app featured various shades of green and gray which made it feel heavy and dated. These updates allow the information to be the focus, with green and orange reserved for the CTAs.
Additionally, we implemented a geolocation weather feature to the app loading screen. This grants new utility and personalization to the app experience - touching on our surprise & delight guiding principle.
What have I learned from this project?
Always be humble —  It is not easy for an in-house UX team to relinquish a huge chunk of their work to an outside vendor. There were times when the team at CenturyLink didn't agree with my recommendations and I had to bring my strongest rationale to the table for the product owner to make the final call. Basing decisions on data and user needs.. and vocalizing those points in a polite but firm way helped to ease tensions.
Animation is powerful —  This was my first time using Principle to showcase the app designs and flow. Our client and stakeholders loved that they were able to get a sense of how it would look and feel prior to wrapping development.
There's always room to improve —  In the first month the new My Account app launched there were 180K app downloads, followed by 50K unique users per month. Acquisition was the main KPI for this project but continued re-engagement will be even more important going forward. Always learning and improving will go a long way in building a meaningful brand relationship.