Davis Kramer
UX & Product Design
Honeycomb Health
Product Platform
About
Honeycomb Health is a blockchain-based platform for rare disease patients to store their health information and share it meaningfully with providers, institutions, and their community.
Challenge:
Rare disease patients have a unique set of needs, that are often outside of what standard healthcare systems can accomplish.
Our goal was to create a platform that would position Honeycomb as a trusted and valuable partner for rare disease patients by providing exceptional health management tools and experiences that meaningfully visualize data, create unique communities and deliver personalized opportunities to participate in life-saving research.
My role:
Product Strategy

User research & analysis

MVP definition

Wireframes

Visual Design

Development oversight
Build. Measure. Learn.
I used Lean UX principles in the development of the Honeycomb Heath MVP to focus on our patients needs at each stage of the design process:
Comprehensive patient interviews and journey mapping

Early user testing with rough sketches to unveil unexpected pain points

MVP definition

Developing patient-centric features, by focusing on research results and creating something that users truly need

Tailored toolkit including Sketch libraries, iconography sets and Google surveys

Externalizing work by using sticky notes, InVision prototypes & daily standup
Research & Problem Definition
Hypothesis
If we can create a platform that allows a rare disease patient the ability to effectively manage and share their health information in one place and with only those they wish, they will feel empowered and supported.
For our MVP, we decided to focus solely on SCAD (spontaneous coronary artery dissection) patients.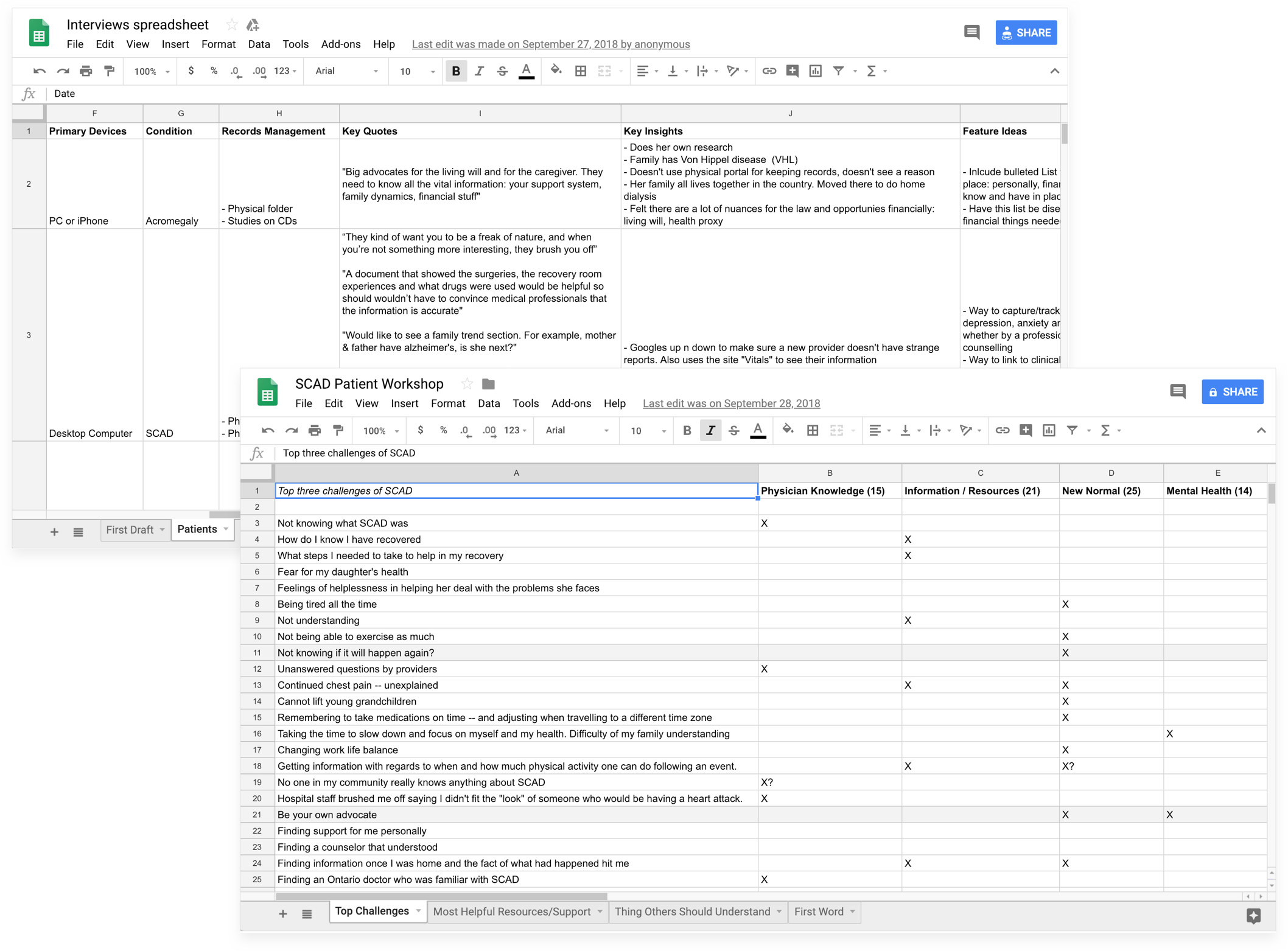 Research
Patient Interviews & Workshops
The first step in my process was to become familiar with what was considered a rare disease, followed by interviews and workshops with a specific group of patients. To do this, we reached out to an advocacy Facebook group for SCAD survivors and arranged to conduct 1-hour phone interviews with those willing to participate.
Following a written interview script, one person our our team asked the questions while the other took notes to ensure we captured as much information as possible.

Utilizing a tracking doc, I organized the results into themes and derived key insights and feature ideas from the data.
Key Results:
95% of patients said they would use (and pay) for a tool that allows them to keep track of their health data.

Most patients felt alone following their diagnosis and are very concerned that they will have another event/heart episode.

Most patients conduct their own research and find they are frequently educating their physicians & families on SCAD.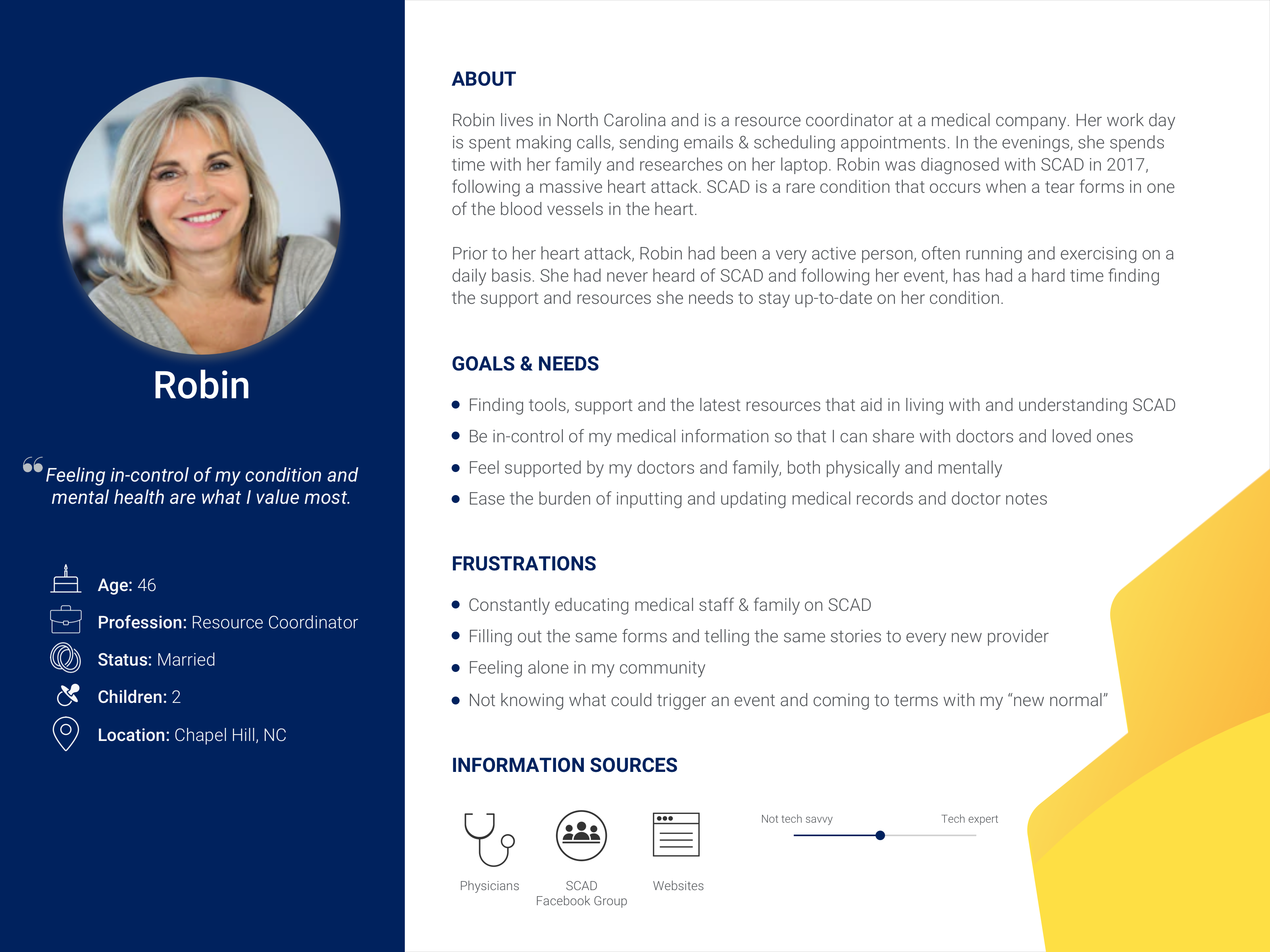 SCAD Patient Persona
Based on the interviews/workshops, I created a SCAD patient persona. This allowed our team to always stay in the mind of 'Robin' to truly understand her needs and motivations. We referred to her throughout the entire development process.
This persona was created from the consistent themes and patterns extracted from the user interviews.

The details and information focuses on the goals and frustrations that she experiences in her daily life having SCAD.


The success and overall adoption of the Honeycomb platform will rely on understanding the motivations & frustrations for each type of rare disease patient.. thus creating several personas will be necessary in the future.
Mapping the User Journey
To fully understand what it means to live with SCAD, I created a journey map to show our user's physical and emotional state from the perspective of their first event (an event is when they know something isn't right.. it's described as what feels like a heart attack).
This journey shows the moment from waking up in the middle of the night all the way through leaving the hospital. The importance here is to identify the painpoints which will become areas of opportunities to solve in the design process. My team was impressed with what was revealed through this exercise. This process influenced the development of important design decisions and key functionality for the platform. Some are as follows:
Educational resources from new patient 101 to 'what happens next?'

Records management tool to help users capture all necessary information

Intuitive support networks for emotional reassurance & patient connectivity

Daily health tracker for monitoring symptoms and other data post-event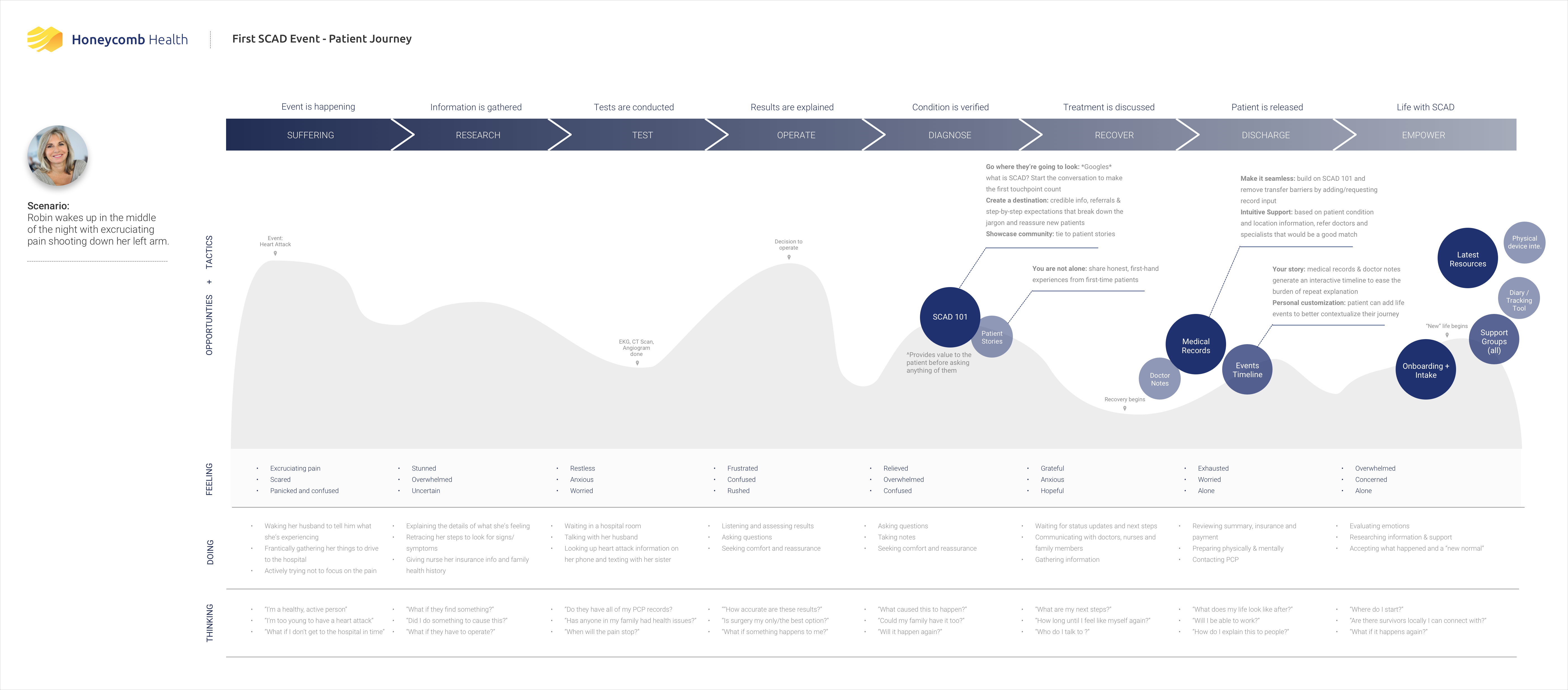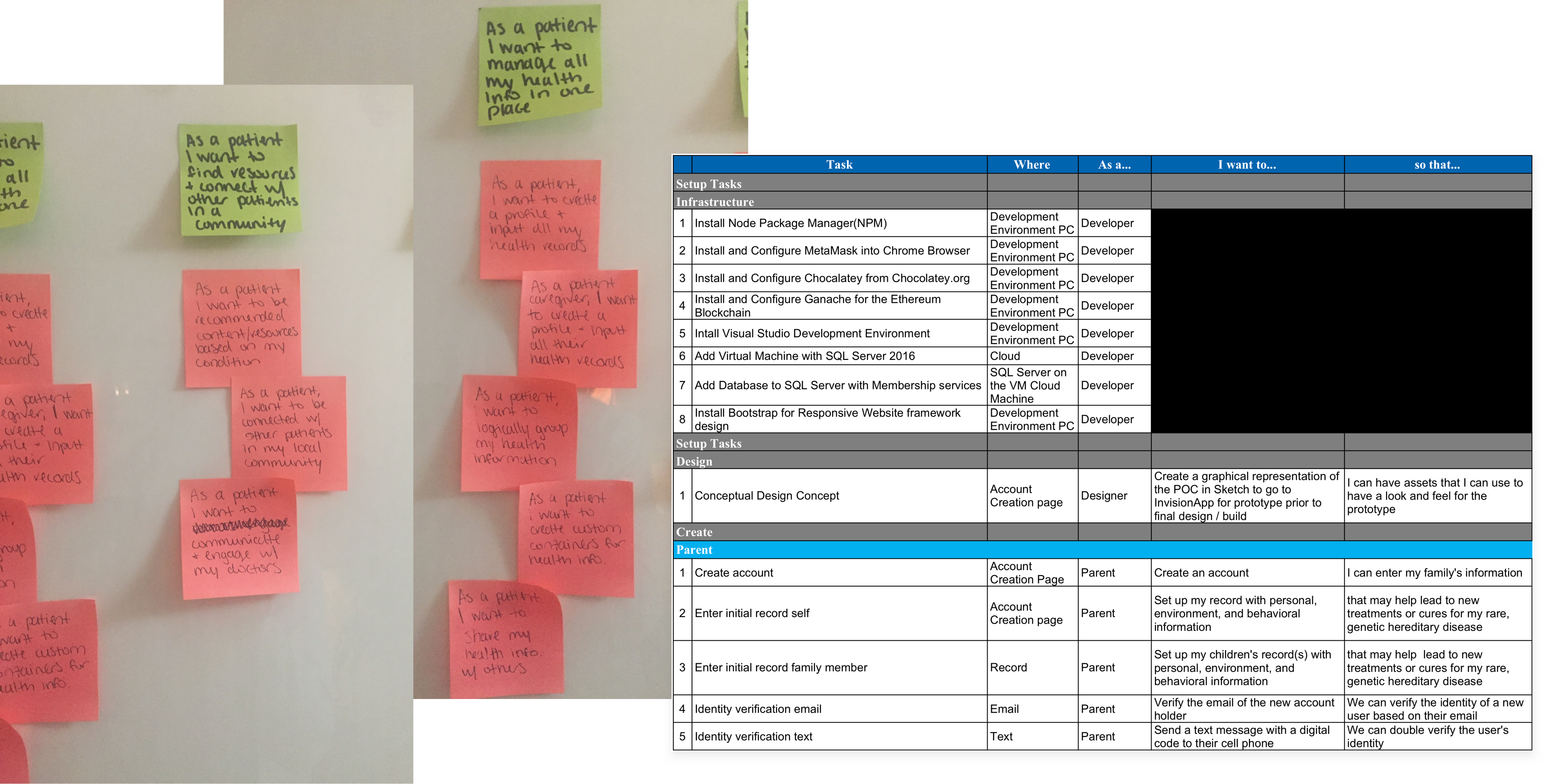 User Stories and MVP Requirements
User research, persona & journey map creation brought up the patients main needs, goals and behaviors. From here, I was able to break down those specific needs into realistic user stories & tasks. In doing so, I found that the main issues my design decisions have to solve are:
Intuitively collecting & syncing health data/records in one unified place
Ability to find resources and emotional support
Tailored tools that help better understand the condition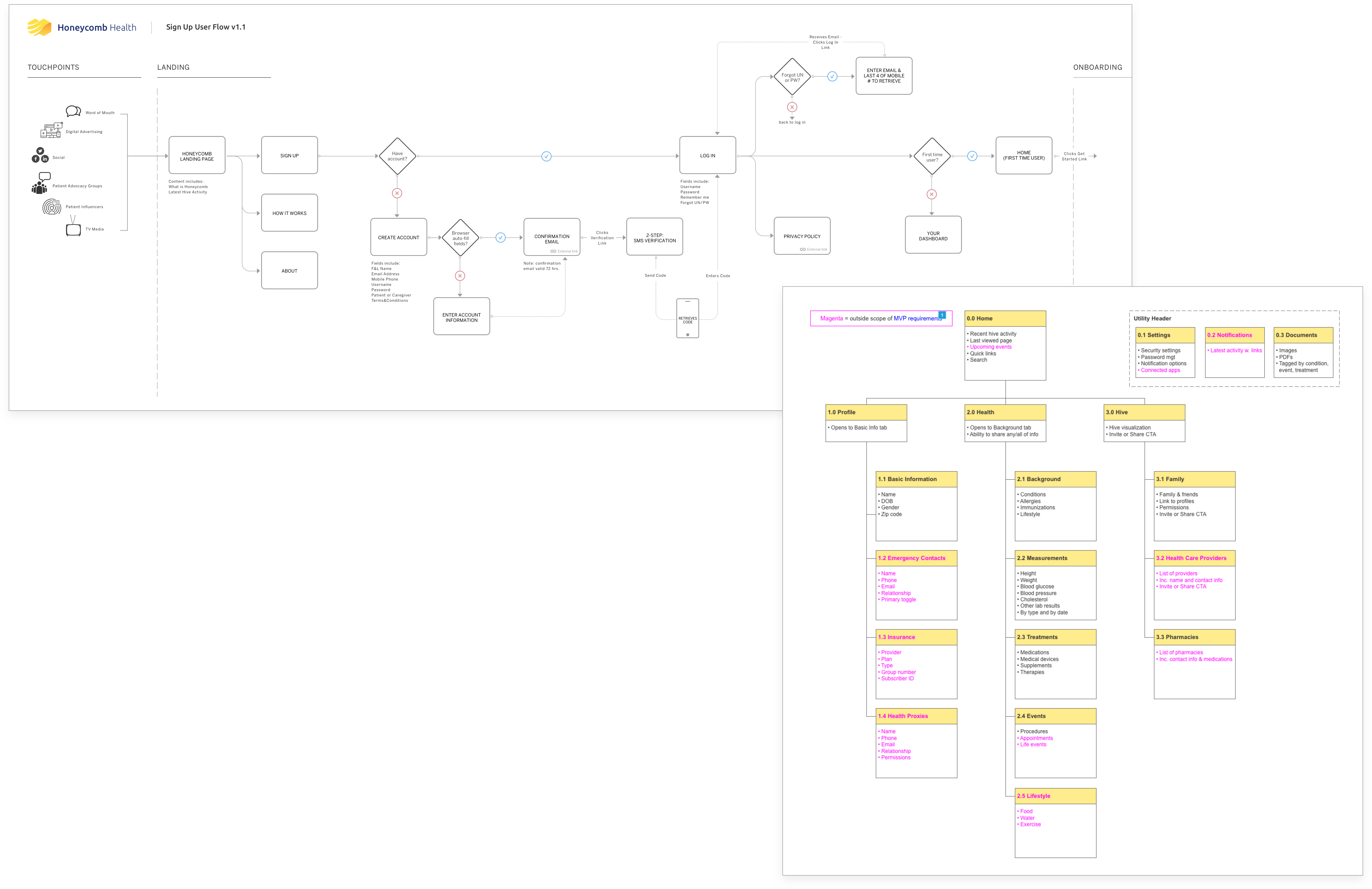 Ideating Solutions
I started the design process sketching out the ideal sign up flow and outlining what we could achieve for our MVP. I then took that information and laid out the full sitemap, with highlighted sections to reflect our MVP goals.
I knew for the onboarding flow I wanted to break each question down into a step-by-step flow to create a transparent and conversational experience with the user.
Input from the product owner, board of advisors and tech lead early-on helped solidify what was possible for our MVP.

Working my way through the first iteration of the onboarding flow lead to the decision to group sections of information together, as to not overwhelm the user with too many "answer/next" actions.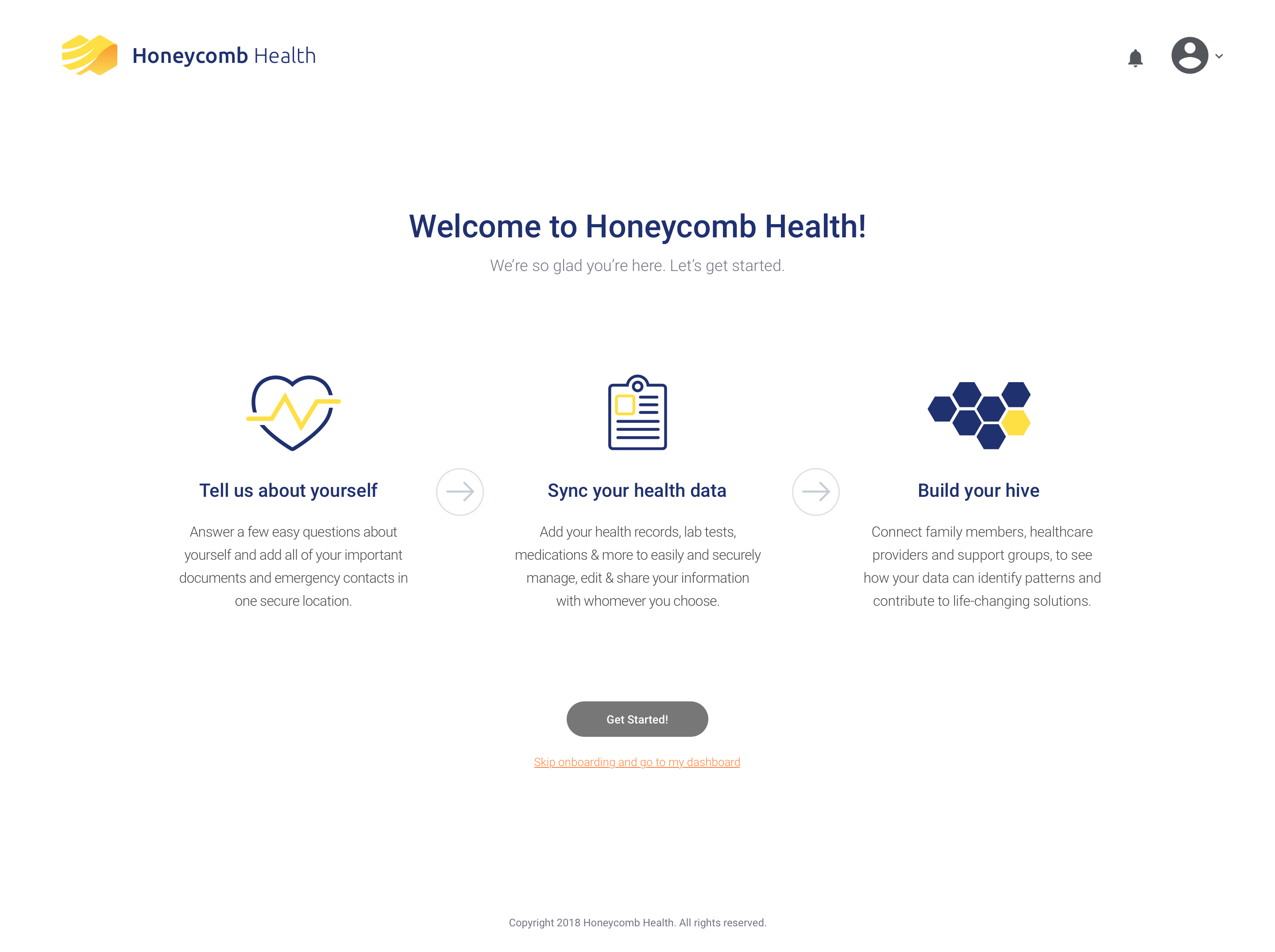 Wireframes
High-fidelity Wireframes

My next task was to move into mid-high fidelity wireframes. Our resources were limited, so handling the visual design was another task I took on.
One of the biggest pain points we heard from patients during our research is the fact that often, they are required to fill out the same forms/information when visiting numerous physicians. Our goal with the MVP was to create an onboarding experience that was both simple and delightful.. and that asked questions w/ a conversational tone to ensure users weren't fatigued with the process and we were capturing as much information as possible.
Our aim was to gather/sync the user's health data prior to asking for additional family health information or contributing to research. This allowed us to keep the initial onboarding experience short and focused.
Testing the MVP will reveal many insights to how our users feel about this process. The goal post-MVP is to expand on the "hive" or family section of the platform as well as utilizing blockchain technology to participate in disease research.
To show the breathe of what the platform will be capable of (and to secure seed funding), placeholder screens were incorporated for the dashboard and research sections in the wireframes.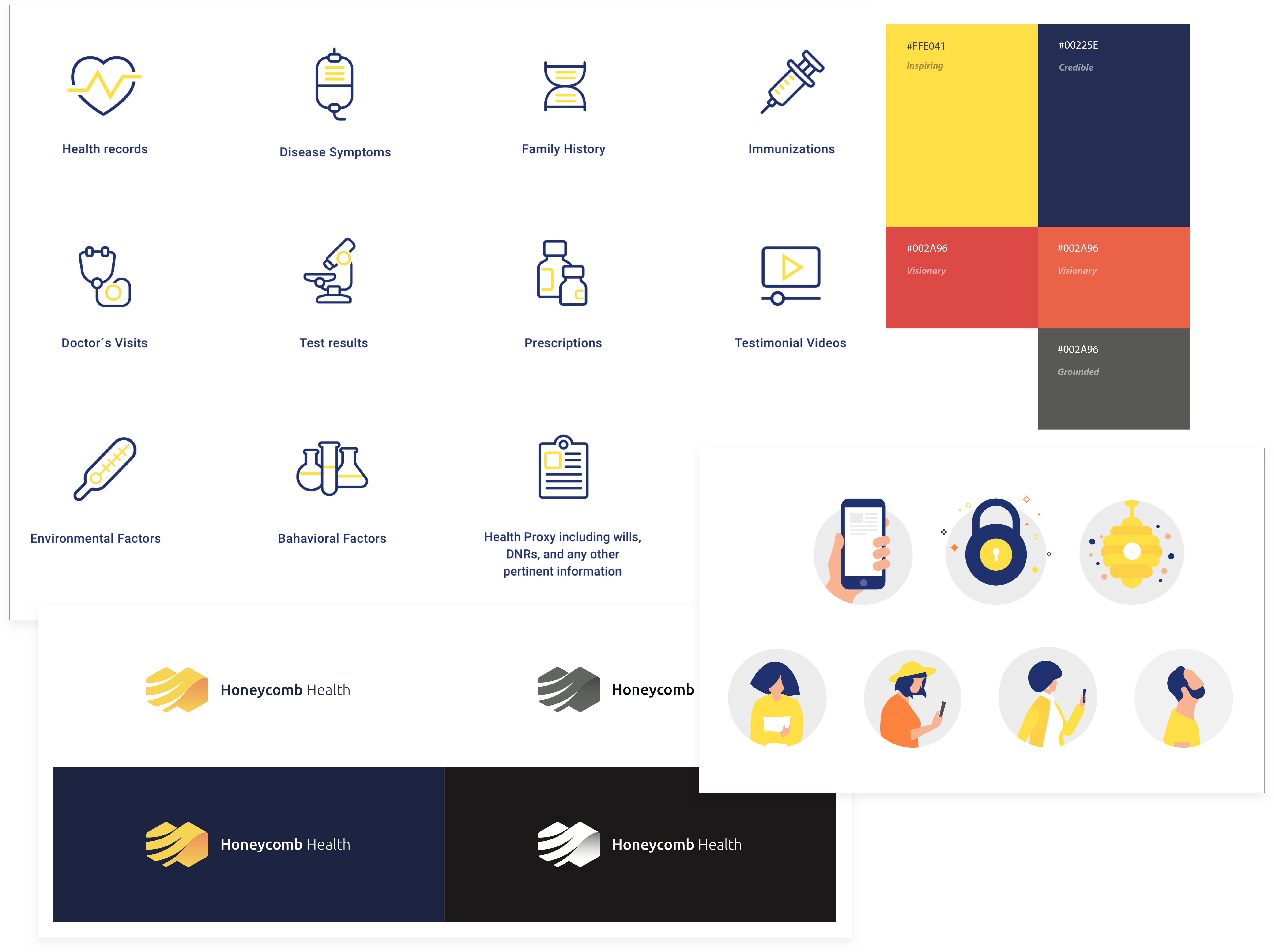 UI Design
After a few more iterations, the high-fidelity wires were ready for visual design. To keep in-line with the modern approach we were taking, I recommended a material design card style treatment for displaying the user's information. This would make clear that the user can edit/download/share individual components of their data with whomever they wish. This also would allow easy customization of the information to reiterate that the patient is the one in control of their data.
We wanted to keep a very clean, organized approach with the visual design so we opted for a white background with subtle iconography and minimal use of stock imagery. This allowed us to keep the user focused with CTAs and sections being represented w/ the brand colors.
Establishing these styles and treatments helped give shape to our product's design system.
What have I learned from this project?
Drive the process —  The initial UX ask was to immediately start down the path of wireframing the experience. After reviewing all the materials that were available, I went back to the CEO to ask for a block of hours for discovery work. Once I presented those results and identified the painpoints that came directly from our patient group, my team was able to see the value in doing this before sketching solutions. It's not always a comfortable conversation to have, but the only way to ensure a product fits the needs of your users is to take the time to understand them as best you can.
Always be learning —  This project has a 'participate in research' component that leverages blockchain technology. Prior to starting, I had heard a little about blockchain but didn't truly understand it. To gain this understanding, I read several articles and attended a few different blockchain/crypto meetups around the city. It's still a tricky technology to wrap my head around but staying open to learning and keeping dialog flowing is the best way to ensure I'm prepared for designing the UX when the time comes.
An emotional journey —  This project was truly a test of empathy, compassion and sensitivity when interviewing and learning about these rare disease patients. And we only focused on the SCAD disease for our MVP. Remembering that as I moved into user testing and when interviewing future patient groups is essential to designing a product that fits exactly where they are in their journey.